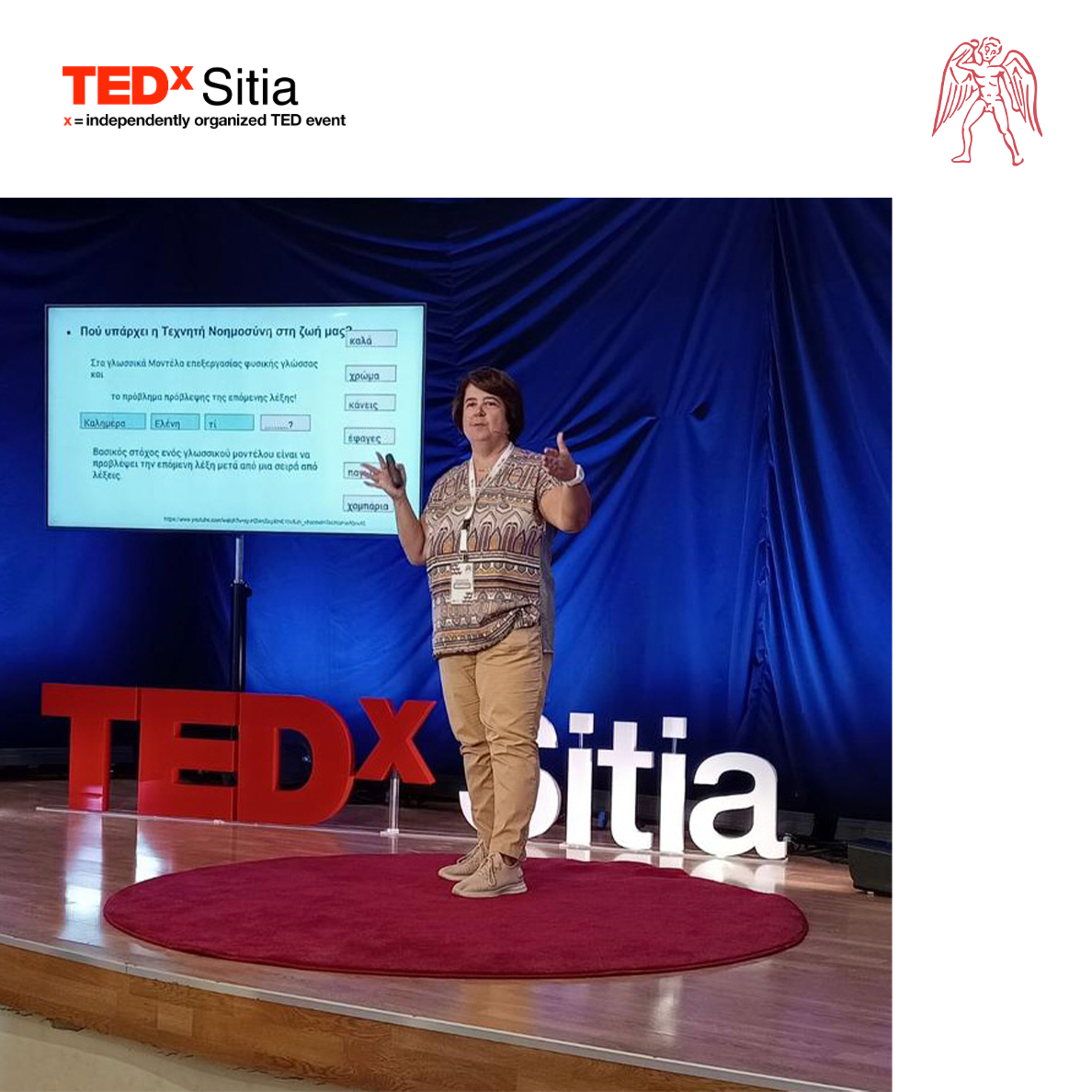 TALOS AI at TEDxSitia
TALOS AI at the TEDxSitia
Date: October 22, 2023
Location: Sitia, Crete

Description : Professor Eleni Katsarou, participated on behalf of TALOS AI for SSH at the TEDx event held in Sitia in Crete. The title of the presentation was "Artificial Intelligence and thinking, learning and knowledge."
Talk Details:
Αrtificial Intelligence and thinking, learning and knowledge
The talk will focus on the key question: whether machines with Artificial Intelligence (AI) and Machine Learning can help us to think deeper, more creatively and more critically. In other words, whether they have the potential to enhance our thinking and, by extension – in the field of education, which is of direct interest to me and in which I am involved – knowledge and learning. More specifically, I will be concerned with three main questions:
whether and how AI can serve, upgrade and create new perspectives for scientific research in the social sciences, in particular for educational research?
whether and how can AI be used in education to contribute to the development of creative and critical thinking of teachers and trainees?
how can we as citizens become deeply aware of how AI and its tools work, of the ways in which it affects our daily lives and our thinking?
Conference Details:
The conference main concept was: "I think, therefore I am", the well-known philosophical formulation of René Descartes (Descartes). Our thinking determines our existence, our choices, the way we deal with situations, the way we have structured our lives. It is the starting point of the simplest things and the most complex philosophical quests. But what we all seek is the evolution of our thinking! This type of thought will help us to open new horizons and not be trapped in trivialities. The kind that will guide us in the most effective way in dealing with and solving problems that arise in various fields. "If you change your thoughts, you can change the world" said Norman Vincent Peale. The change and upgrading of our way of thinking is what will evolve us as people and bring about changes in all areas. It will give us the resources to highlight, examine, delve into issues of technology, entrepreneurship, education, psychology, society and generally every aspect of our lives.